Collection: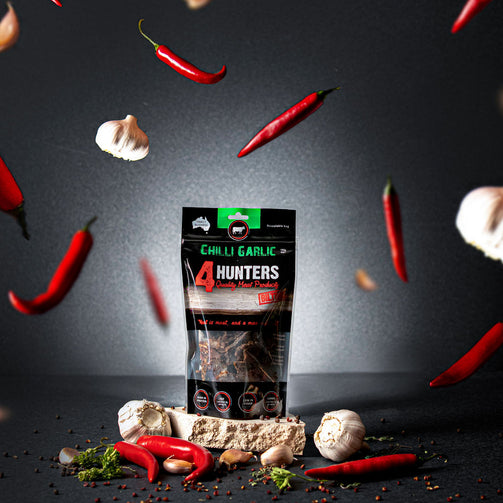 Collection:
500g Chilli Garlic - Biltong
500g Chilli Garlic - Biltong
Regular price

$34.99

Sale price

$28.99
This one is all about the spice and the flare. If you've got it, flaunt it, and Chilli Garlic does not disappoint. It's certainly a crowd pleaser with its mind blowing  blend of garlic flavour and chilli. Certainly a dynamic duo that will win you over. Get the best biltong online right here and experience the difference.
Please note, our biltong is shipped in a resealable bag, for shipping safety. Keeping your biltong safe on its road trip, from us, to you!
More Information
Nutrition information: Servings Size 40g / 2.5 Serves Per Package
Qty per 40g
Qty per 100g

Energy

Protein

Carbohydrates

Total Sugars

Sodium

Gluten

Fat

Saturated Fat

444 kJ

20.4g

<1g

<1g

880mg

Nil Detected

2.6g

1.2g

1110 kJ

50.9g

<1g

<1g

2200mg

Nil Detected

6.6g

2.9g
 INGREDIENTS
 Premium Australian Beef, Spices, Vinegar,  Flavour Enhancer (621),Preservative (202), Salt, Sugar
 May Contain traces of Dairy