Collection: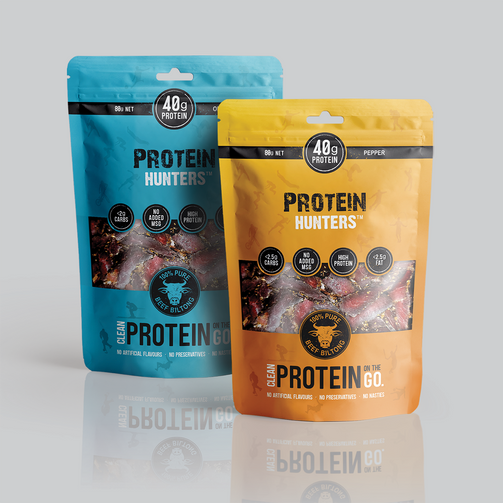 Collection:
Protein Hunters - Duo Pack (2x80g)
Protein Hunters - Duo Pack (2x80g)
Regular price

$15.99

Sale price

$14.99
2 x 80g Bags (1 x Original / 1 x Pepper)
 Can't decide? Try both!! 
Easy to keep in the cupboard and to grab as you go.
Looking for a health snack that's easy to grab when you are on the go? 
A clean, high protein snack, that will give you the energy to keep going.
Makes a great, no nasties, low in sugar snack for kids too!
Our biltong brings you all of the goodness, without any of the nasties. 
Made from 100% Australian Beef. A truly wholesome product. Air dried, sliced, low in fat, low in sugars and low in carbs, we pride ourselves on our product being a clean alternative for those who want a whole food, with real ingredients, that's clean, tasty and ready to eat.
Clean Protein On The Go.
No Artificial Flavours. No Preservatives. No Nasties.
Eat with joy.
Less Than 2g Carbs /   No Added MSG /  High In Protein /  Less Than 2.5g Fat
More Information
Nutrition information - Original Flavour
Qty per 40g
Qty per 100g

Energy

Protein

Total Fat




Saturated Fat

Carbohydrates

Total Sugars

Gluten 

Sodium

432 kJ

20.1g

1.2g

1g




<1g




<1g




Nil Detected

540mg

1080 kJ

50.3g

3g

2.7g




2g




1g




Nil Detected

1350mg
 INGREDIENTS
 Beef, Salt, Spices, Sugar, Dehydrated Vegetables (Onion, Garlic), Vinegar (2%). No Gluten
More Information
Nutrition information - Pepper Flavour
Qty per 40g
Qty per 100g

Energy

Protein

Total Fat




Saturated Fat

Carbohydrates

Total Sugars

Gluten 

Sodium

408 kJ

20.2g

1.2g

1g




1.2g




<1g




Nil Detected

540mg

1020 kJ

50.6g

3g

1.6g




3g







<1g




Nil Detected

1350mg
 INGREDIENTS
 Beef, Salt, Spices, Sugar, Dehydrated Vegetables (Onion, Garlic), Vinegar (2%) Pepper (2%). No Gluten